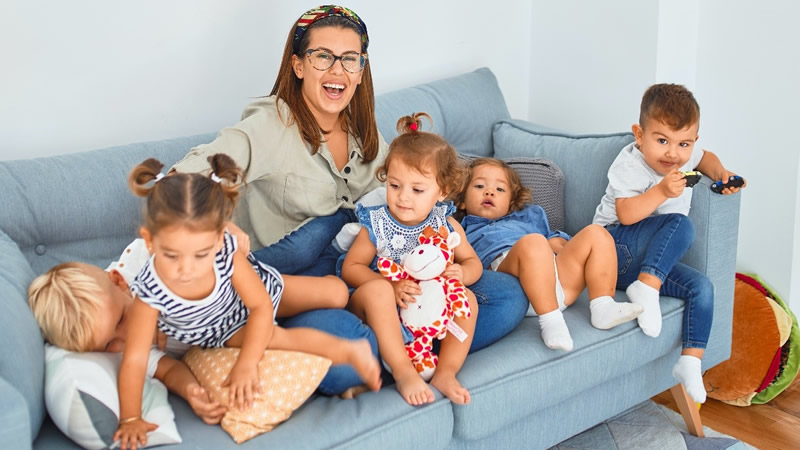 Occupational therapists and occupational therapy assistants help people participate in their desired occupations by using everyday activities therapeutically based on the client's interests and needs.
Pediatric occupational therapists focus on supporting children to develop the critical skills needed to become healthy, independent, well-adjusted adults. They seek to determine the origin of developmental delays/limitations; they pay close attention to a child's gross and fine motor skills, cognitive abilities, social development, and mastery of self-care routines.
A pediatric occupational therapist's client interaction is two-fold, one with the pediatric patient and the other with their guardian/caregiver. For the child, the unique environment and anxiety surrounding the reasons for their visit can make them quickly weary.
On the first session, one can expect to find an inconsolable child desperately crying and clutching onto their guardian while refusing to engage with the therapist; this results from some fear about potential harm in this new environment.
The therapist comes in to reassure and engage with the child. By speaking to the child calmly and giving them autonomy to act, children often switch to exploring the room and feeling different objects with a newfound curiosity shortly after realizing the absence of threat from the therapist and environment.
On the other hand, some children could be more eager and ready to experiment with all the objects in the room, limiting their ability to complete individual tasks adequately (Omondi, 2022). In this instance, the therapist helps the child navigate each activity steadily and works on the child's impulsivity and attention span.
During the first sessions, parents also experience a lot of anxiety and distress tied to the grief and loss of a future that they might anticipate relating to their child's condition. The parents are not only worried about their child's inability to perform session-related activities (and what this suggests about their parenting abilities), but also tantrums can feel very unsettling. The caregivers might resort to withdrawing their child from the session until they feel that the child is settled enough to return (Omondi, 2022).
The therapist's assurance, in this instance, extends from the child to the parent. With the guidance on navigating the tantrum, there is the reminder that sessions might not always go according to our expectations, but the focus should be on working towards the long-term goals (Omondi, 2022). This way, progress expectations are managed, and the general atmosphere can stabilize for the continual progression of future sessions.
It can bring much relief to understand the kind of support occupational therapists offer and what this entails. Therefore, having a good evaluation and appropriate treatment goal is crucial. What stands out, though, are the relational qualities each Pediatric Occupational Therapist possesses to provide the highest standard of care.
Below are a few critical attributes that highlight quality O.T. care;
Patience
A skilled occupational therapist understands that the challenges they are undergoing for many children might make them frustrated, impatient, or socially distant. While some children might meet their treatment goals quickly, it might take months and even years for others to make that same progress. A compassionate occupational therapist can listen to their clients and caregivers with patience and empathy. A small quantity of humor always has a way of making things better in the sessions.
No matter the challenges or duration, the occupational therapist's role is to design progressive treatment strategies to motivate the child toward achieving their treatment goals.
Communicative
As professionals who constantly communicate with children, their parents, and other healthcare professionals, occupational therapists must articulate themselves effectively across many different audiences. Part of being an excellent occupational therapist includes being a good listener since they will need to gather information about the child's concerns, needs, and treatment goals. Being able, however, to break down complex medical terms [1] and intervention procedures while talking the patient and their caregiver through the process requires concepts to be explained clearly and simply so that everyone is aware of the proceedings regardless of their age or cognitive ability.
Empathetic
The loss of independence and uncertainty of improvement means the child may likely be discouraged when they start therapy [2]. In this instance, the therapist must adopt sensitivity and consideration for what they might be going through. Physical injuries, illnesses, or cognitive limitations often impact the child's mental health since the nature of these health issues is usually interwoven with each other. Therefore, incorporating a holistic response to the patient's suffering, filled with kindness and humanity, significantly impacts their overall outcome.
Reflective
No amount of training can 100% prepare one for the different variables in life; therefore, every once in a while, the session may only go according to plan. The activities need to be altered to suit the client's momentary needs, which is expected. Being able to take a step back as an Occupational Therapist and objectively think about how an experience shapes your feelings, the positive/negative outcomes, and what can be improved upon is all part of being adaptable. However, adaptability can only come from reflecting and deriving applicable lessons from past experiences.
Adaptive[3]:
Since no two children are ever the same, each case becomes unique, requiring different strategies, motivations, and goals. Often, a treatment session might require spur-of-the-moment adaptations based on available equipment, environment, or the child's disposition. The best O.T.s must be able to constantly think on their feet to ensure each session can appropriately address the client's needs while pushing them to attain their maximum potential.
These few indicators can help you recognize the right qualities in your occupational practitioner suitable for your child's needs. A good occupational therapist should actively involve parents, caregivers/shadow teachers in the entirety of the process. The therapist ensures that treatment objectives are optimally achieved by assisting parents in seeing the direction of the interventions through the treatment plan.
Similarly to other professions, there is always room for development through experience, building and maintaining professional networks that can guide O.T.s on excelling in their respective professional milestones and careers.
Always remember, if there are any reservations about your child's O.T. experience, there is always ample opportunity to work hand in hand with the therapist. As a parent, you should always ensure that the therapist consults with you and your child to identify the most critical area of concern and what should be prioritized to access the care your child deserves.
References:
– Occupational therapy skills & qualities needed for success. Top Occupational Therapy Schools. (2020, September 3). Retrieved June 16, 2022, from https://www.topoccupationaltherapyschool.com/13-essential-traits-become-proficient-occupational-therapist/
– Omondi Perpetua, June 11th, 2022
– Ross Education. (2020, October 16). 8 character traits of a successful occupational therapy assistant. Retrieved June 16, 2022, from https://rosseducation.edu/blog/8-character-traits-of-a-successful-occupational-therapy-assistant/
[1] Occupational therapy skills & qualities needed for success. Top Occupational Therapy Schools. (2020, September 3). Retrieved June 16, 2022, from https://www.topoccupationaltherapyschool.com/13-essential-traits-become-proficient-occupational-therapist/
[2] Ross Education. (2020, October 16). 8 character traits of a successful occupational therapy assistant. Retrieved June 16, 2022, from https://rosseducation.edu/blog/8-character-traits-of-a-successful-occupational-therapy-assistant/
[3] Ross Education. (2020, October 16). 8 character traits of a successful occupational therapy assistant. Retrieved June 16, 2022, from https://rosseducation.edu/blog/8-character-traits-of-a-successful-occupational-therapy-assistant/